Process
A process rooted in design thinking and ethnographic approaches
Research Participants
Research for Project ARC was conducted in Bangladesh and South Africa across three phases - Foundational Research, Ethnography and Immersions.
In Bangladesh, the Quicksand team worked closely with the BRAC James P. Grant School of Public Health team who led the field research, across urban, peri-urban, and rural locations.
The recruitment criteria included individuals who represented disease burdens that are in focus of public health systems in Bangladesh (including TB, Diabetes, COVID-19), contraceptive use, women in need of maternal and neonatal care, adults over 50, and adults with disabilities. Furthermore, we ensured diversity in terms of gender, age, ethnicity, and geography, sampling for differently abled individuals and religious minorities.
A household survey was initially conducted to purposively select respondents.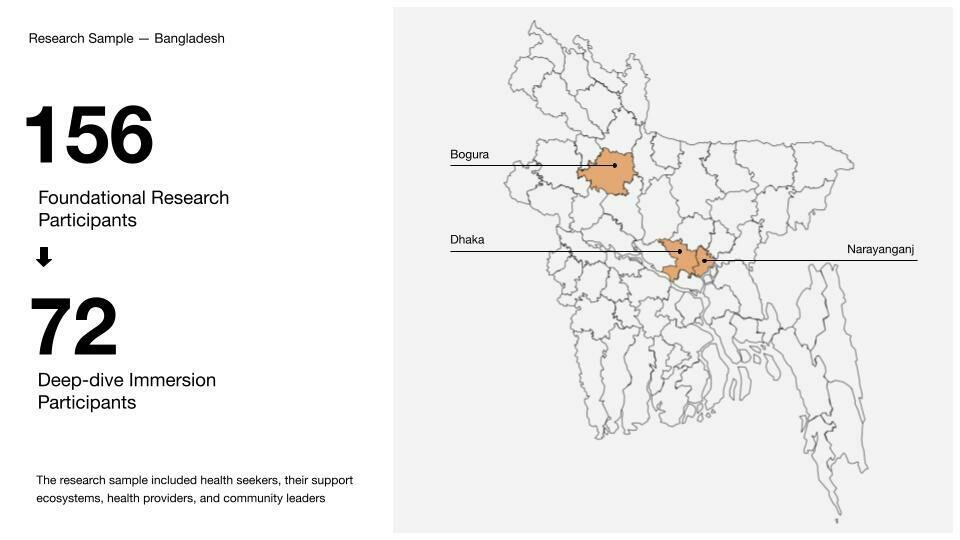 For ethnography, total of 8 local informants were identified. This included a senior staff nurse from an NGO, a midwife, 2 students with smartphones, 2 volunteer healthcare workers, a respondent from phase 1, and a BRAC field organizer.
–
In South Africa, respondents were recruited through an external local organization, Brand iD and through the Center for HIV-AIDS Prevention Studies (CHAPS) clinics using purposive sampling with guidance and assistance from the Matchboxology team. Screening criteria included, 18 – 49 year olds living in one of the four provinces highlighted in the figure below.
An even split of women and men were recruited from among: patients, providers, and community leaders (self-identified). Eligible healthcare providers included: community health workers, physicians, nurses, laboratory staff, receptionists, facility administrators and managers, and physicians.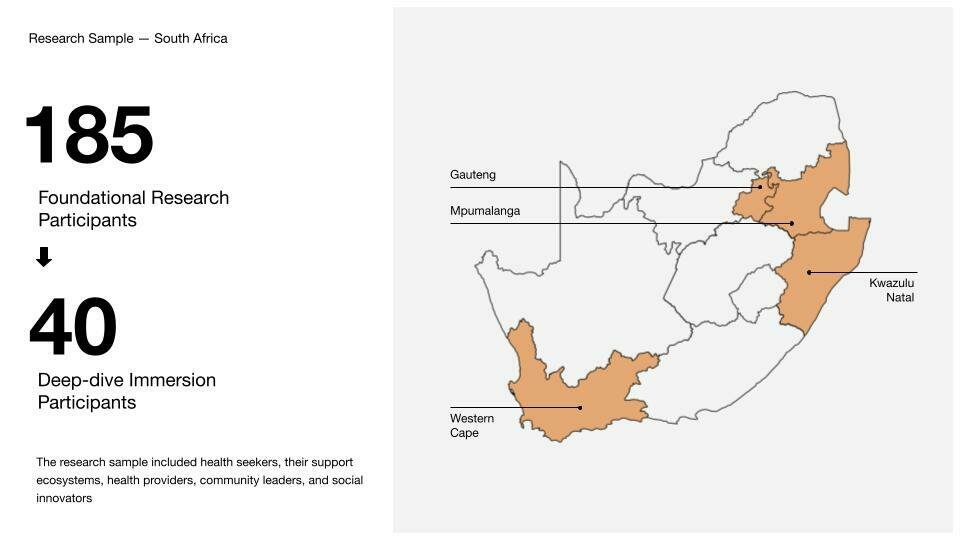 For ethnography, 5 participants from each of the four provinces were selected.