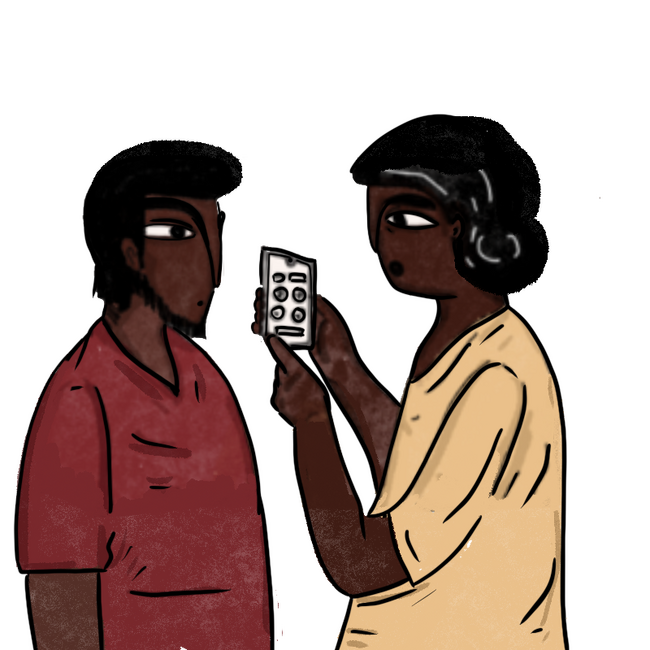 Leverage Health Data to enable Seekers
A seeker's health information should follow her across all touchpoints of healthcare. This data, apart from contributing to the health system's operational efficiency, should also be made available for seekers in formats that help them understand their health journeys better and have more understanding of and control over their care choices.
Lack of Control and Options for Seekers §
I have done tests in 4 places for my kidneys. I have done USG, X-rays, they said that my kidneys are okay. If my kidneys were okay, how come this is the state of my body? This year during Ramadan my legs swelled up and turned black. The girls said that maybe my liver got affected. After that I went to PG (local hospital), and did a blood test. After seeing me, the doctor immediately told me that my kidneys are affected. He wrote me some tests, prescribed some medications and told me that if I can do the tests before 1pm, I can come back to him. I don't know how much they wanted for the tests but we were short so they didn't do my tests.

Middle aged woman with Diabetes in Dhaka, Bangladesh
Five members of Khumbuzile's family are on Antiretroviral therapy (ART) and her mother is on blood pressure medication. Because of this, they rely heavily on the public healthcare system to stay healthy. Before the global COVID pandemic was declared, medicine collection days started in the early hours of the morning, at 5.30 am. "The nearest clinic is miles away, and transport is unavailable as the route is not very busy with customers." Because of this, Khumbuzile's family opts for walking in "whatever weather, rain or sunshine." She adds that "Arriving early at Umzinto clinic does not mean you'll be attended to quicker, because we are busy there from 5.30 am to 5.30 pm anyway. We are also not allowed to collect medicine for each other, so everyone has to go. At the clinic, we wait in three long lines until we get our medicine."

Health Seeker, Kwa-zulu Natal, South Africa
Our participants' stories showed they were repeatedly not in control of their health data. Many health seekers we spoke to, access healthcare from a number of sources across public, private and traditional healthcare options navigating challenges around lack of facilities, long drawn out or incorrect diagnosis, patchy treatment regimens, cost of care etc. For these seekers, even those with chronic conditions, most visits to a new healthcare channel start a new journey, leading to fragmented care and gaps in understanding of their own health conditions and treatment options.
"They told me to go to Dhaka as there is a diabetes facility in Shahbag, Dhaka called BIRDEM. I didn't know the place so they wrote the address. I went there and I came back from there with the book. Then they told us that there is one facility in Narshingdi. I also went there. In Narshingdi also they gave me the same book and told me the same things. Their system is also the same. Then I came back to Gauchia. That doctor [from BIRDEM] also sits here."

Health seeker with Diabetes, TB, and heart disease, Bangladesh
Many health seekers also described a deep frustration and fatigue from having to repeat their stories over and over, often using much of the precious facetime they were given with providers and limiting their ability to get into depth about their current needs. In South Africa, a commonly cited reason for discontinuation of necessary lifelong HIV treatment is the inability to get transfer documentation for those who switch clinics1.While countries move toward electronic health records it is critical to also enable patients to have access to their own data.
A research conducted (Sabin et al, 2022) in Cape Town, South Africa, with HIV patients at high risk of treatment failure, attempted to test several different intervention strategies and their potential uptake for increased treatment adherence. While the research tested 6 intervention types across 3 groups of healthcare providers2, data-based counseling3 featured in the top three choices by 2 out of 3 provider groups including doctors & nurses, and counselors. It was unanimous across both the groups that data-informed counseling could enable the provider to improve communication with patients by giving providers a greater flexibility for working on more personalized and differentiated plans with their patients with the help of data available4 .
Reimagining Health Data §
Reimaging health data also means rethinking what kind of data are collected and how they can benefit patients. In global health, patient level data are primarily collected for the purposes of monitoring metrics such as national and sub-national targets, resource allocation and decision-making, and reporting to donors. Little consideration is put into how patients or healthcare providers at the local level can benefit from these data, if at all. A global systematic review found that greater health information seeking can improve patient and provider relationships, and that self-tracking and patient generated data may support collaboration between patients and providers, such as symptom tracking and patient-reported outcomes.5 However, this is not only about provision of accurate data and updating portable data systems; effectiveness of care can be improved when this data is meaningfully fed back and interpreted for local providers and the seekers themselves.
Provocations §
How might we transform patient level data into health insights that are useful for health seekers?

How might we empower and educate willing patients or their care networks to engage with the health systems through a better understanding of their own data?

How might we empower primary care providers to leverage community level data to make more contextual, data driven decisions at the local level?

How might we use digital tools to address the data vacuum that exists between different avenues of healthcare such as between public and private, between different private care avenues and between allopathic and traditional care?
Doctors & nurses, counselors, and community health workers (CHWs)

A clinic-based lay counselor meets with the patient monthly to look at and discuss charts that show how the patient has taken the pills.

Sabin et al. 2022. "Patients' and Providers' Views on Optimal Evidence-Based and Scalable Interventions for Individuals at High Risk of HIV Treatment Failure: Sequential Explorations Among Key Stakeholders in Cape Town, South Africa." AIDS Behav. 26(8):2783-2797. doi: 10.1007/s10461-022-03623-7.

Tan Sharon Swee-Lin, Nandee Goonawardene. 2017. "Internet Health Information Seeking and the Patient-Physician Relationship: A Systematic Review." J Med Internet Res. 19(1):e9. doi: 10.2196/jmir.5729.