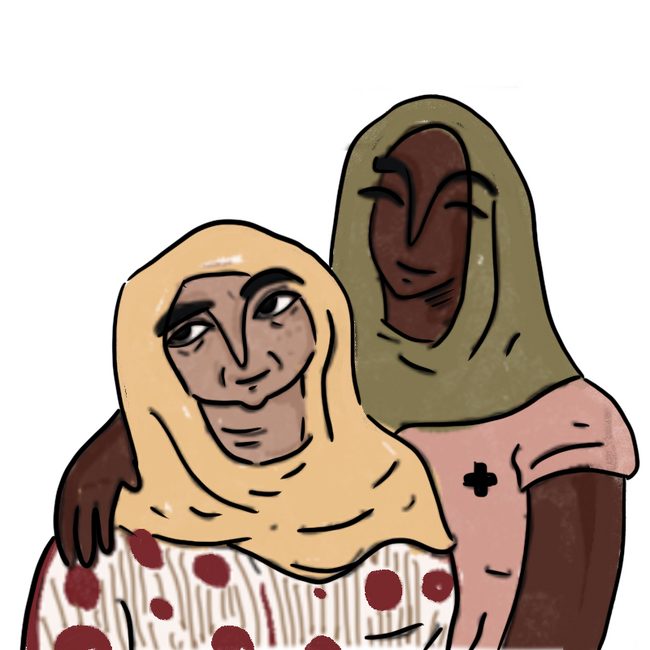 Foster Integrated Communities
Formal care providers and naturally occurring networks of care should be enabled to form an integrated community of practice to enable seekers to experience effective and mutually-flourishing relationships with their care providers.
Networks of Care §
Project ARC reinforced that for many people, health seeking was not a journey they undertook alone – rather, it included family, friends, and community members to help them along the way with healthcare decision-making, as well as resource sharing and more practical support to access care.
"I relied on my friend for support through my healthcare. He helped me decide which provider to visit, accompanied me to meet with providers, and was there when I needed emotional support. Even my family was not there for me."

Health Seeker with TB, Bangladesh
These care providers around an individual form her networks of care. For many seekers a strong network of care is essential to keep them healthy. The network plays a number of roles ranging from what could be considered to be neighborly help such as cooking for a family during illness to financial assistance; from advising on the right avenues of care to contributing towards mental health resilience.
Recognition of these Networks §
While networks of care are critical components of health journeys, outside of some public health programs and initiatives, there isn't a generalized recognition of them and they are often not considered while designing interventions. However, a care in community approach has been gaining traction across health systems around the world1. In some disease burdens such as in case of HIV/AIDS, family-centered care has been recognised as a viable way to improve patients' global health and well being, especially in resource limited settings2. Furthermore, in public health interventions where care networks have been acknowledged and leveraged, there has been evidence of success.
Research (Deek et al, 2016) has shown that rising cases of chronic conditions have magnified the focus on self-care which is defined as an individual's decision to maintain well-being. The burden imposed by chronic conditions, the severity and complexity of their regimens has mandated novel approaches to providing care to intentionally involving the family in the process. Family-centred approaches have been shown to be associated with improved caregiver satisfaction and quality of care in hospital settings. An established positive relationship between healthcare workers and the family can lead to better understanding of the disease condition, coping and adherence to self-care instructions. Research has shown that involving the family3 in self-care in chronic conditions can improve outcomes such as readmission rates, mortality rates, quality of life, and reduce healthcare cost. Even though coping with a long-term illness may be facilitated with a family caregiver's involvement, systematic and accountable processes are lacking to achieve this.4
Networks of Care Offer Resilience §
Stories from Project ARC highlight the resilience that networks of care are able to bring to the health of individuals in communities. This is especially true for those who are financially weak in countries such as Bangladesh, where the out of pocket cost of healthcare is very high. These individuals and families rely on their ability to leverage their social networks to offset their poor financial standing to keep healthy and to receive care during illness.
A differently abled woman in Bangladesh is unable to walk on her own, and relies on those around her — her neighbors, and strangers, to get through the day. This includes going to the toilet, buying medicines, or purchasing daily ration. As she does not live with her family — siblings, or daughters, she clearly states that they do not support her in any way, and because of this her social network becomes even more important. "Apart from the people of this household, I do not trust anyone. Not even my brothers, sisters, my children."

A disabled woman in Bangladesh on the importance of her immediate network of care
During the COVID-19 pandemic the idea of community care and family-centered care received prominence as public health systems were severely disrupted; it was acknowledged that family and community support becomes crucial during a crisis such as this.
Research (Hart et al, 2022) suggests that family-centered care is usually seen as desirable by patients and families, may improve their outcomes, and may also reduce burnout and moral distress among clinicians. The COVID-19 pandemic, however, had a profound impact on the delivery of family-centered inpatient care. While the more privileged could rely on technology-heavy family-centered care strategies through tools such as internet or smartphone to make contact and maintain physical distancing, the less privileged were not as likely to have access to these resources which ultimately impacted their ability to provide or receive a family-based care that worsened the existing health disparities. There are several other barriers that can impact care strategies and need to be designed for; the policy-makers hold the key to designing the post pandemic family-centered care strategies which begins at the point of entry to the health system.5
Fostering Integrated Care §
Naturally occurring networks of care around individuals are crucial to keeping them healthy, in seeking care, in adhering to treatment regimens and in recovering. As has been recognised by a number of public health interventions across the world, these networks offer an invaluable resource to leverage in service of public health goals. However, these interventions remain isolated and there is a lack of general integration of networks of care within public health systems. In the future health systems can regulate and channel these networks, creating communities of care that can occupy the care spectrum between formal healthcare providers and individual health care seekers.
Provocations §
How might we reimagine formal care providers collaborating with, empowering and regulating networks of care around individual health seekers?

How might we focus on and empower individuals (such as neighborhood pharmacists or community leaders) who are part of many care networks?

How might we ensure that those without robust care networks are recognised and provided additional support by healthcare providers?
Nadia, Islam, S.K. Nadkarni, D. Zahn , M. Skillman, S.C. Kwon, C. Trinh-Shevrin. 2015. "Integrating community health workers within Patient Protection and Affordable Care Act implementation." J Public Health Manag Pract. 21(1):42-50. doi: 10.1097/PHH.0000000000000084.

The benefit of family-centred care is more likely in certain cultures that are collectivists like Asian populations, whereas, individual person-centred approaches may be more suited to Western cultures whereby individualism is prevalent.

Deek H., S. Hamilton, N. Brown, S.C. Inglis, M. Digiacomo, P.J. Newton, S. Noureddine, P.S. MacDonald, P.M. Davidson. 2016. "Family-centred approaches to healthcare interventions in chronic diseases in adults: a quantitative systematic review." J Adv Nurs. 72(5):968-79. doi: 10.1111/jan.12885.

Mathews, E., E. Thomas, P. Absetz. et al. 2017. "Cultural adaptation of a peer-led lifestyle intervention program for diabetes prevention in India: the Kerala diabetes prevention program (K-DPP)". BMC Public Health 17, 974. https://doi.org/10.1186/s12889-017-4986-0

Tolle M.A. 2009. "A package of primary health care services for comprehensive family-centred HIV/AIDS care and treatment programs in low-income settings." Trop Med Int Health.14(6):663-72. doi: 10.1111/j.1365-3156.2009.02282.x.