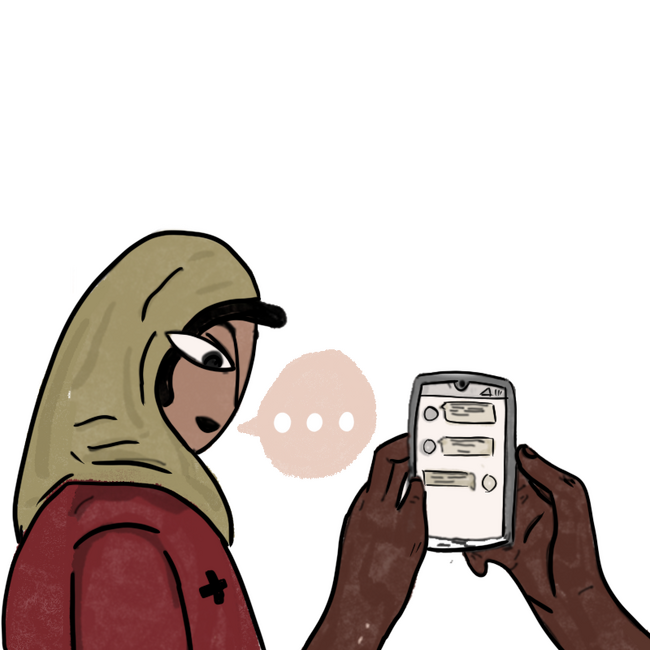 Complement and Enhance Physical Touchpoints
Technology in health should seek to complement the in-person experience of health seekers, not aim to replace it.
The Rise of Remote Care during the COVID-

19

Pandemic §
The COVID-19 pandemic caused a rapid increase in the uptake of telehealth globally.1 Among many health professionals, remote care via telemedicine or other forms was seen as a contributing factor to health system resilience to shocks such as the pandemic.
Research shows (Baser et al, 2020) that the scope of telemedicine adoption is set to increase in the coming years with exponential growth in internet users. In 2018, the global telemedicine market was valued at USD 38,046 million and is expected to rise to USD 103,897 million by 20242. In LMICs too, telemedicine saw increased adoption (Singh, 2022) during the pandemic, as a time-saving and cost-effective solution.3
Project ARC identified a number of health seekers, especially in Bangladesh, who expressed satisfaction with the telecare they received during the COVID-19 pandemic.
I think advice is the biggest thing. They heard me and gave me suggestions. That is everything. They listen to every detail over the phone. Then they gave their opinion. They don't try to make that in haste. They advised me very well. When we go to the clinic to visit a doctor, we have to pay for it. They don't always have time to advise us.

A young man who was diagnosed with COVID-19 during the first wave in Bogura, Bangladesh
Limitations of Remote Care §
In countries like Bangladesh4, where health access is severely limited and where a significant portion of health costs are borne by health seekers, remote care is naturally seen as a cost effective way to both improve access and reduce cost while keeping overall government expenditure on health manageable.
However, there are several limitations to remote care, which a number of experts have already pointed out. These include limitations around internet/​telephone infrastructure5, challenges around digital literacy6, inability to explain symptoms adequately to care providers over remote care technologies7, challenges around privacy8 among others.
Research shows (Blandford et al, 2020) that telehealth adoption has immense scope especially in low-and middle income countries and that the early adopters of telehealth have traditionally been remote communities with insufficient access to traditional care providers.9 While opportunities exist in remote care, the ultimate outcomes and experiences of telehealth are dependent on design details and factors such as health literacy, digital literacy, and the quality of integration with clinical care pathways.10
Project ARC respondents, especially care providers, also spoke of a number of challenges with remote care.
If I couldn't make a doctor understand what my problem is, then it wouldn't be possible for him to treat me properly. There is a matter of communication. I think that I could make him understand my problems and he gave me the best possible solution. Everyone can't do it. How can they provide a service if we can't make them understand our problems?

A nurse in Narayanganj, Bangladesh who availed telecare services when she was ill
Doctors expressed skepticism around arriving at diagnosis by clinically examining the patient.
The weak point with telemedicine is that I am not seeing the patient and I cannot do a clinical examination. I have to depend on what the patient is saying. It is hard to assess the severity of things and it can be harmful for the patient. Suppose the patient took things lightly and did not tell me all the problems. I asked him what the saturation was and the patient replied without checking. The saturation may be below 90 but the patient said 99, at that point I cannot handle the patient properly.

A doctor in a public hospital Dhaka, Bangladesh
Complementing Physical Care §
The COVID-19 pandemic accelerated the exposure of remote care among people across the world. It is likely that remote care will play a crucial role in public health strategy in the years to come. This may be especially true in resource constrained settings where public investment in healthcare will remain limited. However, considering the limitations of remote care it should be seen as a way to complement and augment physical care touchpoints and not replace them.
One of the key opportunities lies in augmenting intermediaries with technologies and allow them to interface between the experts in the health system (such as doctors) and health seekers. This addresses the current challenges around digital literacy of health seekers and their limited ability to communicate with professionals remotely.
Her temperature and her pulse was very high and oxygen saturation was low. So Shalpa immediately called the telemedicine doctor. She tried 3 to 4 numbers to connect with a doctor. The doctor asked about all the symptoms and spoke with the patient. The patient informed the doctor that her husband had bought her antibiotics. The doctor provided her with additional medication to be taken for another month and told her to continue the antibiotic. Shapla wrote the name of the medicines on a page and made a prescription for the patient.

As recorded by researchers shadowing Shapla, a community health worker in Bogura, Bangladesh
Elderly are not good with tech, marginalized communities don't have access to phones. But we know that first we consult with friends and family and based on their recommendations we decide where to go. So essentially someone in your network will have access to tech and can indirectly provide this support. I believe right now everyone is connected either through friends and family or through their local leaders and can step in to provide support.

Imtiaz Alam from mPower, a social enterprise in Bangladesh
Another opportunity lies in self monitoring of health parameters for health seekers suffering from chronic conditions such as diabetes. While early results11 in the case of diabetes are promising with a number of digital programs clinically proven to improve health and lower cost of care, it remains important to pair these self-care and self-monitoring interventions with support from health care providers.
A systematic review of literature showed (Shrivastava, Shrivastava, & Ramasamy, 2013) that self-reporting in diabetes is by far the most practical and cost-effective approach to self-care assessment but is often seen as undependable. Diabetes self-care activities are behaviors undertaken by people with or at risk of diabetes in order to successfully manage the disease on their own, and require patients to make dietary and lifestyle modifications enabled by increments in knowledge or awareness regarding appropriate behaviours. Though multiple demographic, socio-economic, and social support factors can be considered as positive contributors in facilitating such self-care activities in diabetic patients, for a long-term change, the role of clinicians in promoting self-care is vital and should be emphasized. The multi-faceted nature of the problem necessitates a systematic, multi-pronged, and an integrated approach for promoting self-care practices among diabetic patients to avert any long-term complications.12
Provocations §
How might we identify the stages and settings within health journeys that are most suited for digital interventions and support (as opposed to trying to replace all in-person care), in order to arrive at the most appropriate and relevant phygital balance for care provisioning?

How might we leverage digital tools to enhance wider consideration of all health strands of a seeker and factor them into care provisioning?

How might we we enable and empower other actors to foster relevant connections with the health system by providing services and intermediation for health seekers who are not tech enabled?
Thomas, Emma E, Helen M Haydon, Ateev Mehrotra, et al. 2022. "Building on the momentum: Sustaining telehealth beyond COVID-19." Journal of Telemedicine and Telecare.; 28(4):301-308. doi:10.1177/1357633X20960638

Though mainly driven by necessity due to the pandemic, there is now a heightened awareness of telehealth amongst health service providers, patients, and society at large. With increased telehealth uptake across the globe, telehealth stands at a critical juncture with numerous opportunities waiting to be explored.

Baskar, Sonu, et al. 2020. "Telemedicine Across the Globe-Position Paper From the COVID-19 Pandemic Health System Resilience PROGRAM (REPROGRAM) International Consortium (Part 1)." Front. Public Health. https://doi.org/10.3389/fpubh.2020.556720, Jasbir. 2022.

"The COVID-19 pandemic: an opportunity to strengthen telemedicine in low and middle-income countries." Pediatr Res. https://doi.org/10.1038/s41390-022-02167-9

In Bangladesh, the government expenditure on health is only about 34% of the total health expenditure, the rest (66%) being out-of-pocket (OOP) expenses. Inequity, therefore, is a serious problem affecting the health care system, as is the case in other low-middle income countries as well.

Source:https://www.researchgate.net/profile/Tuhin-Biswas/publication/276105127_Health_System_in_Bangladesh_Challenges_and_Opportunities/links/559fa7b208ae0e0bf6124b88/Health-System-in-Bangladesh-Challenges-and-Opportunities.pdf

To effectively integrate telemedicine in LMIC healthcare systems major impediments include the high initial set-up cost, lack of infrastructure, electricity outages, and poor broadband internet connectivity, especially in remote locations.

Singh, Jasbir. 2022. "The COVID-19 pandemic: an opportunity to strengthen telemedicine in low and middle-income countries." Pediatr Res. https://doi.org/10.1038/s41390-022-02167-9

There is a noticeable lack of awareness, lack of smartphone devices, and resistance to adoption at the patient's end. Patient awareness camps, sensitization of village heads, sensitization through community health workers, information and educational material, and automated short messages can go a long way towards improving adoption.

Singh, Jasbir. 2022. "The COVID-19 pandemic: an opportunity to strengthen telemedicine in low and middle-income countries." Pediatr Res. https://doi.org/10.1038/s41390-022-02167-9

Halverson, Julie L., et al. 2015. "Health Literacy and Health-Related Quality of Life Among a Population-Based Sample of Cancer Patients." Journal of Health Communication. 20:11, 1320-1329, DOI: 10.1080/10810730.2015.1018638

Boulos, Maged.N.Kamel, Steve Wheeler, Carlos Tavares, Ray Jones. 2011. "How smartphones are changing the face of mobile and participatory healthcare: an overview, with example from eCAALYX." BioMed Eng OnLine. 10, 24. https://doi.org/10.1186/1475-925X-10-24

A recent WHO publication on future of health discussed how low-income countries that are less invested in 20th-century health systems may be better positioned to leverage the advantages of people-centered approaches and leapfrog away from incrementalism that inhibits transformative change among many high-income countries.

"Health Futures Forum 2021: shaping the future of health." 2021. World Health Organization website. Accessed August 30, 2022. https://apps.who.int/iris/handle/10665/360541

Blandford, Ann, Janet Wesson, René Amalberti, Raed AlHazme, Ragad Allwihan. 2020. "Opportunities and challenges for telehealth within, and beyond, a pandemic." Global Health, The Lancet. 8-11. DOI:https://doi.org/10.1016/S2214-109X(20)30362-4

Shrivastava, S.R., P.S. Shrivastava, J. Ramasamy. 2013. "Role of self-care in management of diabetes mellitus." J Diabetes Metab Disord. 12(1):14. doi: 10.1186/2251-6581-12-14.

Kaufman, Neal, Irina Khurana.2016. "Using Digital Health Technology to Prevent and Treat Diabetes." Diabetes Technology & Therapeutics. S-56-S-68. http://doi.org/10.1089/dia.2016.2506