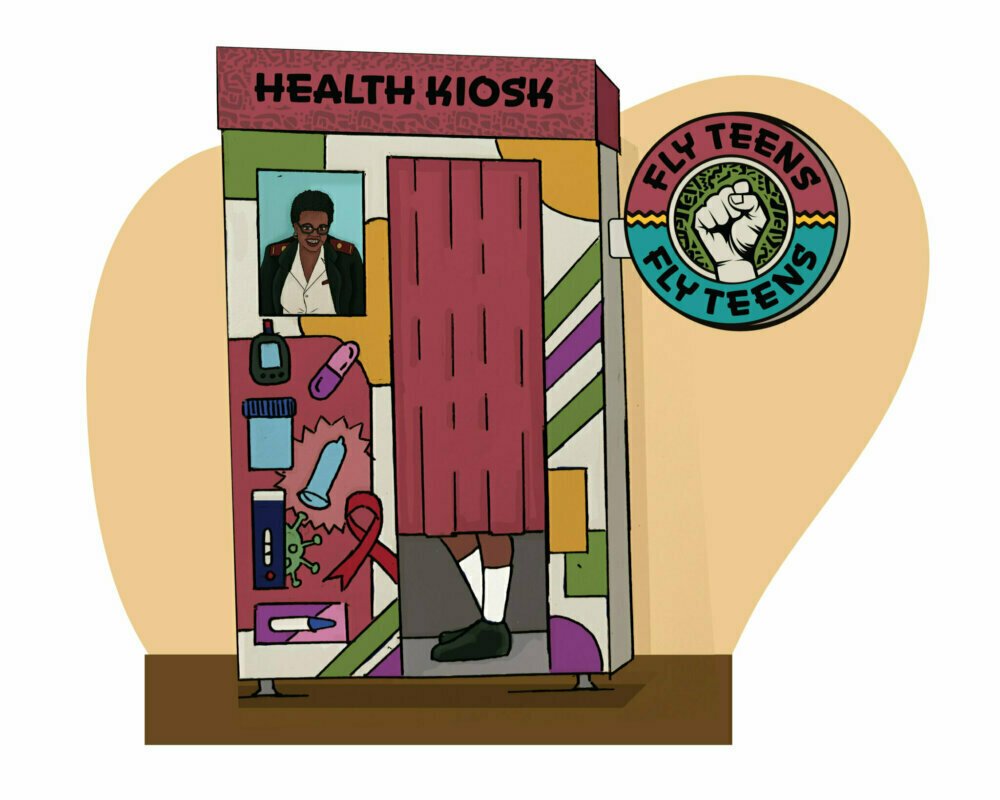 The Tailored Health Kiosk offers a leap in convenience for individuals needing trusted over-the-counter prevention items and rapid home diagnostic kits typically only offered in health facilities and pharmacies. By tailoring a kiosk's product mix to match the needs of a specific audience and placing it where these people are naturally found, we better align distribution with desire and increase the agency of an individual to be a partner in their own healthcare. FlyTeens is envisioned as a high-school kiosk offering home tests for COVID, HIV, STDs, pregnancy, glucose and blood type and products like condoms, lube, morning-after pills and study/​concentration supplements; a product mix addressing common health needs of students. For confidentiality, transactions take place behind a curtain.
Today there is a growing commitment to bring care to individuals where they live and work. Beyond the obvious mobile clinic model, adapting successful last mile distribution techniques like home delivery and conveniently located delivery lockers from companies like Amazon and WalMart. These concepts are in pilot tests in a few countries to deliver family planning products and PrEP. While outreach efforts address convenience, they also run the risk of exacerbating patient confidentiality and stigmatization and are challenged by simple logistical barriers like communities with no formal house addresses.
Tomorrow, the concept of everything is digital and physical should be integrated into the outreach of services designs offer to community members. As digital ID and mobile technology evolves, kiosks may prove to be useful to deliver medical products a variety of tailored services for clients with transport challenges. Kiosks could be designed to offer confidential tele-care and tele-medicine, combing a comforting professional physical presence with digital convenience and scale of service.
To leverage the possibilities of bringing care and treatment to individuals via a kiosk model, there are challenges to consider.
Framing opportunities is an early step to address these challenges:
How might we adapt and apply private sector models and strategies to identify ideal kiosk locations?

How might we inspire pharmacies to embrace the business opportunity of delivering services through kiosks?

How might we partner with mobile phone network providers to embrace the business opportunity of delivering services through kiosks?

How might we designers link innovations in client-centric monitoring, treatment and prevention to improve the impact of kiosks?