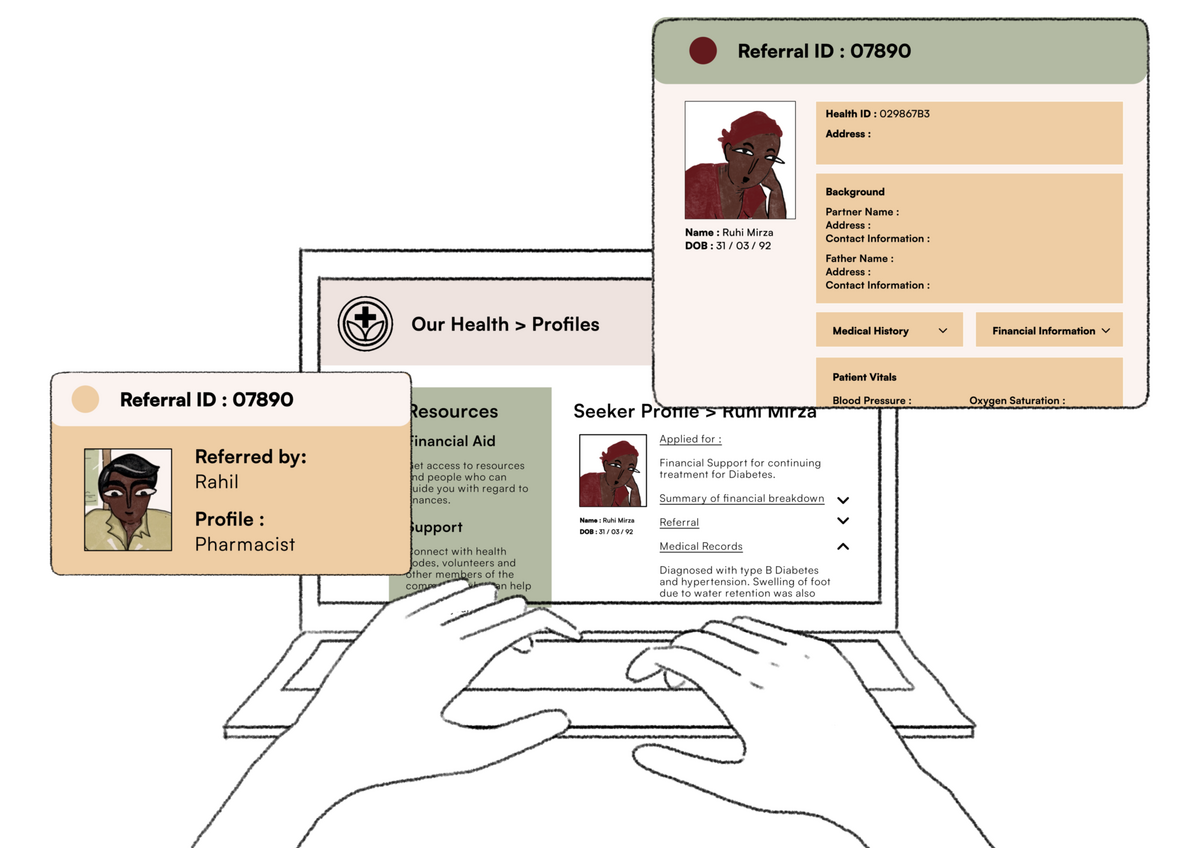 Our Health is a community level implementation of the public health system that is regulated and guided by upstream actors such as state or federal health authorities. Our Health coordinates and implements all ongoing health activities in the community including health communication, preventive interventions, regulation, capacity building and training of non-regular care providers such pharmacists, among others activities.
At the community level, Our Health fosters a community of practice around health and wellness, led by experts such as doctors and including other actors such as pharmacists, community health workers, community leaders and even family members of health seekers. In this way Our Health seeks to maximize its impact on the health and wellness of community members within the limited resources it has access to.
The digital layer of this system plays a dual role. Firstly, it provides a low friction interaction layer for health seekers, who, through an app or the website, can seek knowledge, make bookings, access their health data and coordinate with health providers during long health journeys among other things. Secondly, it creates a coherent medical and wellness record of seekers for local as well as upstream providers and experts, raising efficiency of care provisioning and contributing towards data driven decision making at the policy level.
Today, last mile delivery of health remains challenging, especially among poor communities in rural areas. At the same time lack of integration across public health touchpoints and between downstream and upstream stakeholders puts communities at risk during public health emergencies, such as the COVID-19 pandemic. In some LMICs, health data collection and analysis are enabling proactive measures from public health actors. Further, there is recognition of resource constraints and the need to leverage community based resources to bridge existing gaps that health seekers experience while seeking care in public health systems.
In the future, public health systems can pursue better integration and access by empowering and regulating community level implementation of public health system infrastructure supported by community actors including local private care providers. In LMIC contexts where resource constraints will limit the ability of public health actors to address all the health needs of the community (at least in the near future), this approach can help ensure better care options, especially for the poor, who today rely on avenues of care, which are largely unregulated and unaccountable.
There will likely be a number of challenges in the development of an integrated system with motivated and engaged local actors:
Framing opportunities is an early step towards addressing these challenges.
How might we strike a balance between leveraging local resources for care and ensuring that care provisioning is dictated by medical experts?

How might we we sustainably incentivise local care providers to collaborate with the public health system?

How might we nudge and convince skeptical public health officials to include local stakeholders in managing public health at the local level?

How might we incentivise and nudge the private sector to become a part of such a system?