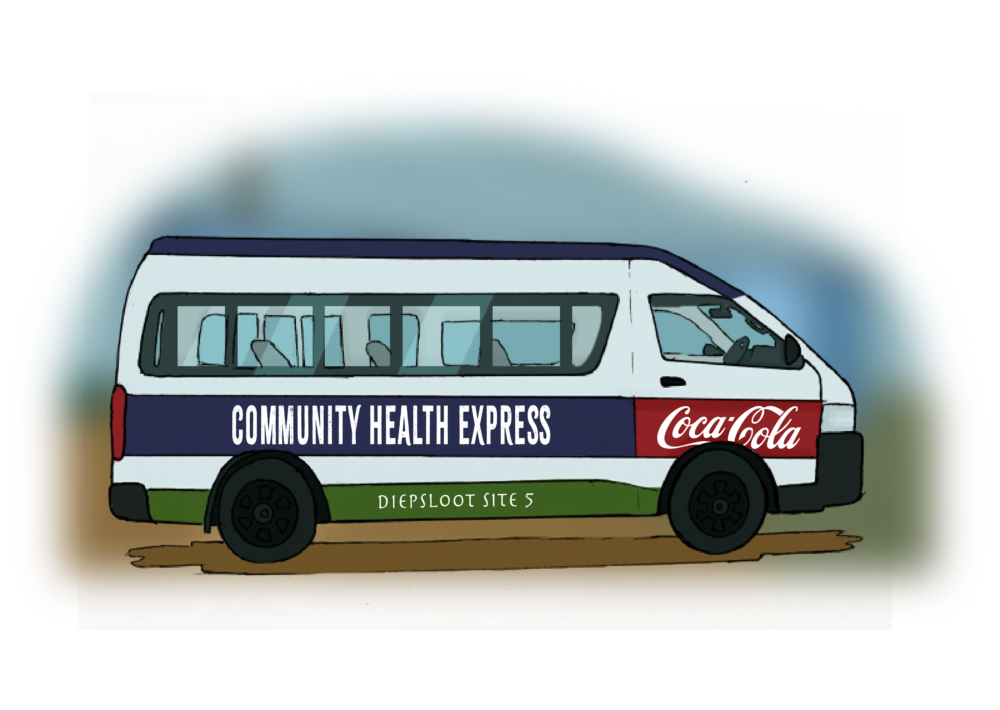 Community Health Express is a tech based value proposition extension, amplifying the value of the existing MomConnect app by linking the patient, community health care worker, birth facility (even if it is a low-cost private facility like Unjani Maternity) and a community/​corporate co-sponsored transport service in a seamless birth service. One button connects all services. Community Health Express alerts the community health worker and Unjani Maternity center (working together they coordinate any medical issues on the journey to the facility) and hails the Health Express transport taxi for the trip. We envision this vehicle as a collaborative partnership between the community (who provides a trained volunteer driver and maintenance funding) and the corporate sponsor (who provides the vehicle and operating costs). After birth, the MomConnect App is automatically triggered to add new features relevant to a woman's next 5 years of motherhood. This ​"whole life" approach delivers timely info on breastfeeding tips, baby's first 1000 days play and stimuli development, FAQ's, New Mom's Chatroom for support, and return to Birth Control linkage and decision-making tool.
Today, such an end to end integrated loop in communication does not exist. Instead, viable innovations exist in silos with no dedicated communication system to bring them all together for a much better community healthcare experience.
In the future, designing with a lifetime patient mindset means we can better create tech-supported engagements with just-in-time value added services relevant to our seekers. Community innovations and support services would be integrated to ensure that known barriers such as transportation and nutrition are eliminated and that a wide basket of public and private health services reach those in need.
In order for this vision to be achieved, key challenges need to be addressed:
Key questions to consider :
How might we apply HCD with funders to redesign funding based on a lifetime of care mindset and model?

How might we apply a frictions-based approach to address longer term seeker issues (like motherhood, NCD patient, otherly abled life)?